Medium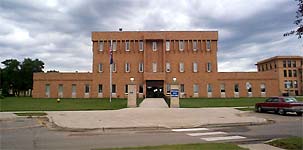 Heather Jenkins, Superintendent
The Life Skills and Transition Center (LSTC) is a state-operated, comprehensive support agency serving people with intellectual and developmental disabilities in Grafton. LSTC serves as a crisis and stabilization center, as well as a safety net for people whose needs exceed community resources. Accredited by The Council since 1989, the center received a four-year Person-Centered Excellence Accreditation in December 2019.
People supported by the LSTC may reside in an intermediate care facility setting on campus, in residential habilitation homes in the Grafton community, or in communities across the state. Admissions are meant to be short-term. Off-site outreach and consultation services are provided statewide to help people remain in their communities and homes and to prevent admissions.
Vision: Support people to be viable members of their communities by providing specialized services when their needs exceed community resources.
---
Crisis Response
People with intellectual or developmental disabilities in crisis can get help by calling the 988 Suicide and Crisis Lifeline. They will be connected to a specialized response team who can provide stabilization, support and services coordination within 24 hours of the initial call.
Our crisis coordinators and applied behavior analysts are located throughout the state and work closely with the behavioral health mobile crisis teams from the state's regional human service centers.
A sliding fee schedule is available based on an individual's ability to pay and insurance is accepted, if available.
---
Adaptive Equipment Services 
For over 40 years, we've provided adaptive equipment solutions to people with complex needs to help maximize their independence. Learn more.
---

Admissions and Accessing Services 
Treatment Programs and Services 
Accreditation/Certification/Background Information
Additional Information
Field Services Client Handbook (Handbook for clients served by the regional human service centers, North Dakota State Hospital and/or the Life Skills and Transition Center)
Fact Sheet (459kb pdf) (April 2022)
Materials for national American Association on Intellectual and Developmental Disabilities conference 
Medium
Contact Us
Life Skills and Transition Center
816 W. Midway Dr.
Grafton, N.D. 58237
Phone: 701-352-4200
Fax: 701-352-4376
711 (TTY)
Email: hhslstc@nd.gov