Medium
NDCISM Team Activation
24/7 Activation: 701-328-0707
The focus of this program is to minimize the harmful effects of stress, particularly in crisis or emergency situations. The priorities for this program are to maintain confidentiality and to respect the feelings of the individuals involved. It is not the team's function to replace ongoing professional counseling, but to provide immediate crisis intervention. The NDCISM Program is now housed under the Emergency Preparedness Division. 
The purpose of CISM is to accelerate normal recovery, for normal people, having normal reactions to abnormal events, enabling people to quickly return to their daily routine.
Medium
About CISM
The North Dakota CISM Team will provide multi-dimensional management services for emergency services personnel who request it.
A critical incident is any incident, or compilation of incidents, faced by emergency personnel that cause emotional reactions which interfere with their ability to function either at the scene or after the fact in their professional role or in their personal life.
We serve all levels of first responders: EMS agencies and personnel, fire and rescue, law enforcement, medical facilities and providers, dispatching agencies, etc. 
CISM services are free of charge.
We come to your location.
The team is comprised of emergency service personnel (peers) and mental health professionals that have received special training and volunteer their time, energy and resources.
Anybody who sees a need for Critical Incident Stress Management services can activate the system by contacting the 24/7 Health and Human Services operation center (701-328-0707) or State Radio (701-328-9921) and requesting the HHS Case Manager.
If you are interested in obtaining information regarding any of the following:
becoming a member of the NDCISM Team,
having somebody present information to your agency regarding the benefits of CISM,
having somebody present at a local conference,
or learning more about what NDCISM has to offer;
contact the NDCISM Team administrative team at 701-328-2270 or email dems@nd.gov.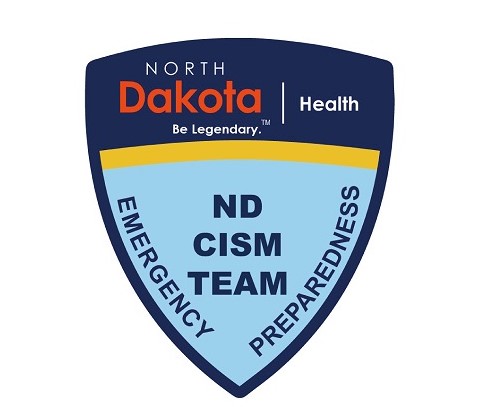 Medium
NDCISM Team Information
If you are interested in joining the State CISM Team, please contact the appropriate regional coordinator for your area or contact the Division of Emergency Preparedness.