Medium
If you are experiencing homelessness NDRH Housing Stability may be able to offer re-housing assistance.
If you qualify, payments will be sent to your housing provider for rent. View the application checklists.
Data Dashboard
See the impact NDRH Housing Stability has on North Dakota individuals and families.
Medium
---
IMPORTANT:
As of May 1, 2023, ND Rent Help will no longer be accepting new applications for the general rent/utility assistance program. Applications received prior to May 1, will be processed in priority order, as long as funds are available.
NDRH's housing stabilization program for households experiencing homelessness remains open to new applications. Housing stabilization services offered by local partner organizations will continue to be available to approved program participants. 
Households seeking assistance with home energy/cooling costs should apply for the Low-Income Home Energy Assistance Program (LIHEAP).
We understand that you may have questions about these changes. An FAQ has been created to address some of the commonly asked questions.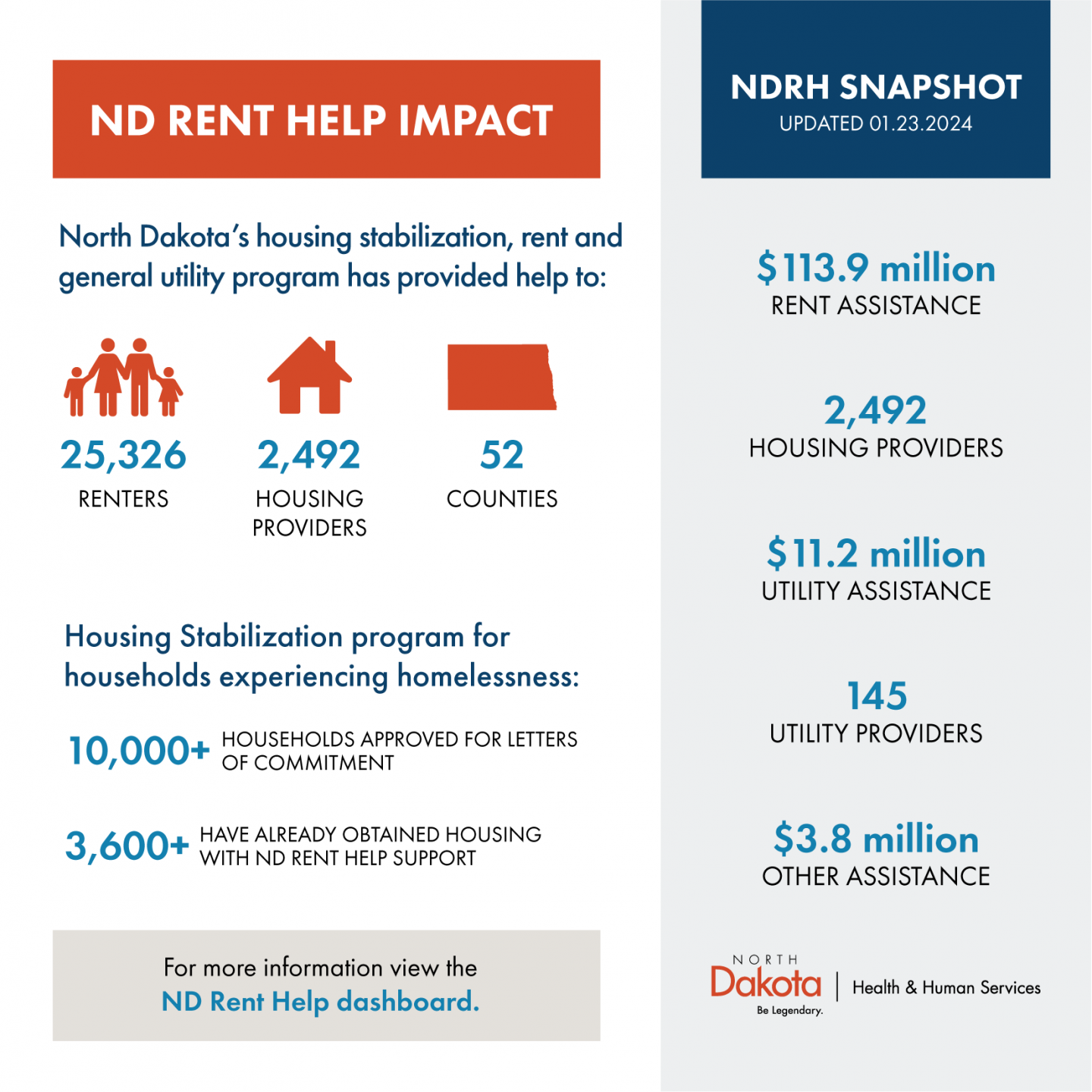 Read more about how ND Rent Help has impacted North Dakota families.
Medium
Who Qualifies?
Households who are experiencing homelessness
Households at imminent risk of homelessness
What housing expenses can ND Rent Help assist with?
Applications for general rent/utility assistance are no longer being accepted as of May 1, 2023. Housing stabilization applications will continue to be accepted from households experiencing or at imminent risk of homelessness.
Current Housing Providers
If you are a housing provider that has received payments from NDRH Housing Stability before and need help entering a request for payment or creating a Housing Provider Company Profile, visit our NDRH Housing Stability guide here.
You'll find specific help on:
Logging in for the first time: pages 5-9
Setting up your Housing Provider Profile: pages 11-17
Initiating an request: pages 19-26
For more housing provider information click here.
New Housing Providers
Find out what you need to know about participating in and receiving payment from ND Rent Help on the Housing Providers page.
Medium
---
NDRH Housing Stability works with both households and housing providers.
Medium
What other programs can help me?
HHS may be able to offer additional support.
Other programs you may qualify for include health care, food support and child care assistance.
---
Who can answer questions about NDRH Housing Stability?
For information about applying, program eligibility, or an existing case, contact the NDRH Housing Stability Program.
Economic Assistance Policy Division
NDRH Housing Stability Program
600 E. Boulevard Avenue, Dept 325
Bismarck, ND 58505-0250
Phone: (701) 328-1907
TTY 711
ND Relay TTY: (800) 366-6888
Email: dhserb@nd.gov