Medium
If you are experiencing homelessness NDRH Housing Stability may be able to offer re-housing assistance.
If you qualify, payments will be sent to your housing provider for rent. View the application checklists.
Data Dashboard
See the impact NDRH Housing Stability has on North Dakota individuals and families.
Medium
---
NDRH Housing Stabilization's focus is helping households experiencing homelessness find long-term stable housing. Once an application has been submitted and approved, the applicant will be matched with a Household Engagement Coach. Applicants will gain an understanding of their lease and Letter of Commitment, and how to have a successful renter and housing provider relationship.
Once applicants are housed, NDRH will assist with three months of rent. During this time, the applicant and coach will look at additional resources around the state to potentially assist with financial needs.
You may qualify for help with utility bills and future energy costs through the Low Income Home Energy Assistance Program (LIHEAP). Visit the Apply for Help page to learn more about eligibility and apply.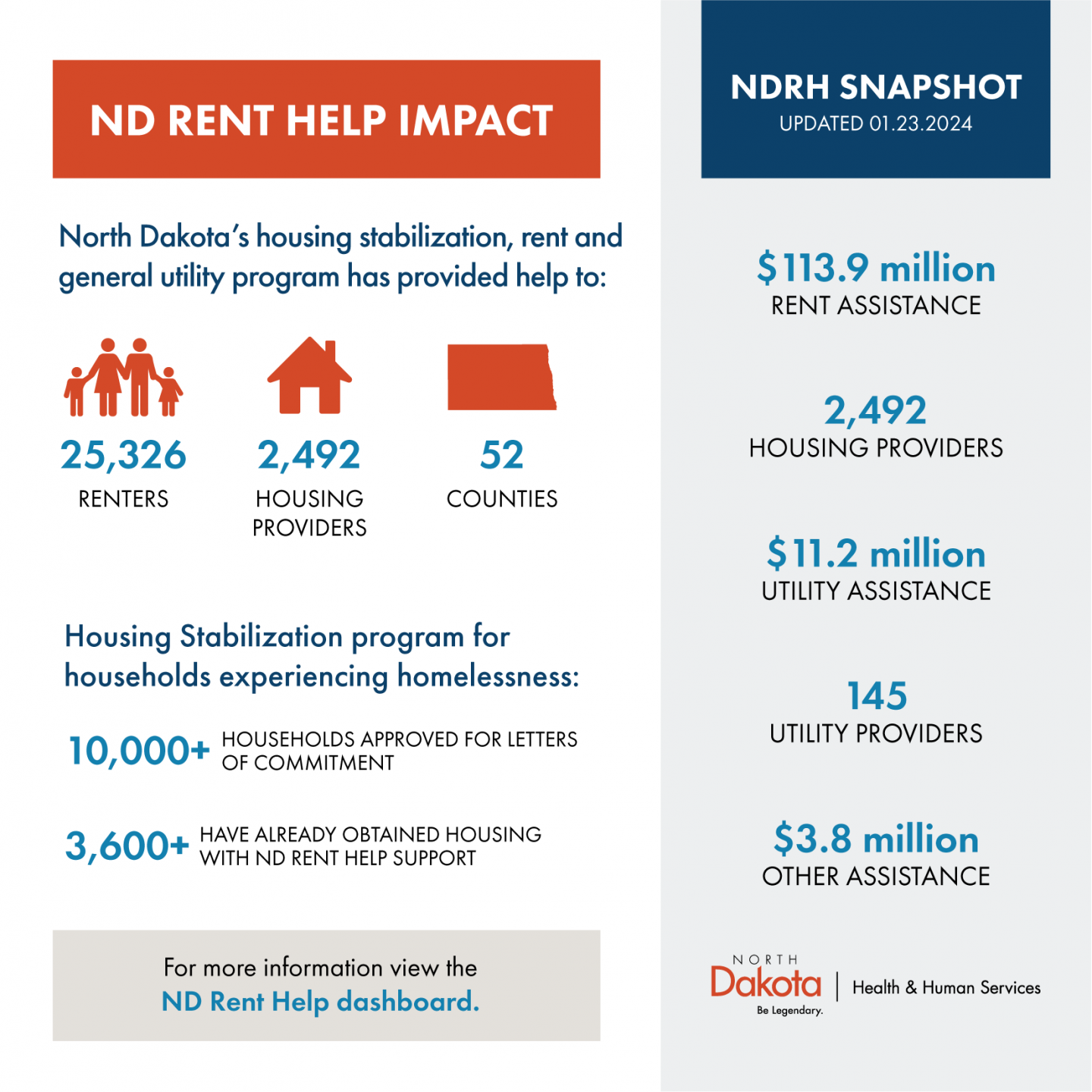 Read more about how ND Rent Help has impacted North Dakota families.
Medium
Who Qualifies?
Households who are experiencing homelessness

A household experiencing homelessness is defined as an individual or family who lacks a fixed, regular, and adequate nighttime residence. This includes a living situation where you are temporarily doubled up with another household.

Households at imminent risk of homelessness

A household at imminent risk of homelessness is defined as an individual or family with an eviction hearing scheduled within the next 30 days.
This does not include households with an initial 3 day eviction notice or lease termination notice.
An individual or household transitioning out of a treatment or care facility.
An individual or household transitioning out of corrections.

Must below income limit of 30% Area Median Income (AMI)
Must spend majority of nights in North Dakota
What assistance does NDRH Housing Stabilization offer?
Letter of Commitment with intent to pay a housing provider for an approved residence within rent limits for the applicant's household size and county. This includes:

Security deposit
Application fees
Up to 3 months of rent assistance

New Renter Training and Household Coaching
Resource and referrals to economic assistance and other support programs
Housing Provider Information
Housing Providers are an essential piece of the ND Housing Stabilization program. We strongly encourage housing providers to participate in order to receive direct payment. If you are a housing provider that needs help entering a request for payment or creating a Housing Provider Profile, read through our user guides here.
Medium
---
NDRH Housing Stability works with both households and housing providers.
Medium
What other programs can help me?
HHS may be able to offer additional support.
Other programs you may qualify for include health care, food support and child care assistance.
---
Who can answer questions about NDRH Housing Stability?
For information about applying, program eligibility, or an existing case, contact the NDRH Housing Stability Program.
Economic Assistance Policy Division
NDRH Housing Stability Program
600 E. Boulevard Avenue, Dept 325
Bismarck, ND 58505-0250
Phone: (701) 328-1907
TTY 711
ND Relay TTY: (800) 366-6888
Email: dhserb@nd.gov