Medium
Everyone 13 to 64 Should Know Their HIV Status
CDC recommends everyone between the ages of 13 and 64 get tested for HIV at least once. You should get tested at least once a year if you are a man who has had sex with other men, you have had more than one sex partner since your last HIV test, you've shared needles, syringes, or other drug injection equipment (for example, cookers), you've exchanged sex for drugs or money, you've been diagnosed with or treated for another sexually transmitted disease or you've had sex with someone whose sexual history you don't know.
https://www.cdc.gov/hiv/basics/hiv-testing/getting-tested.html
Medium
Free Self-Collection STI Testing Program
One key to HIV and STI prevention is to get tested and know your status. The process is easier than you think and can be done entirely from home thanks to HHS's partnership with binx health. Take our medically-guided quiz to help identify which tests are right for you and place your order. Then select your kit and checkout free of charge. You will receive everything you need to collect your samples at your home. Collect and return your sample to the lab within 30-days and you will receive your results electronically.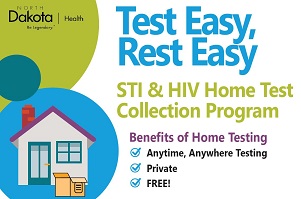 Medium
Free HIV Testing in North Dakota
The HIV and hepatitis programs contracts with several partners to offer FREE HIV and hepatitis C testing at various locations through out North Dakota. Free testing is available for anyone at risk of HIV and/or hepatitis C infection. Find the closest testing site to you and call to make an appointment. Some testing sites may have alternate hours due to the pandemic.
Frequently Asked Questions About HIV Testing
Medium
h2
Left
Frequently Asked Questions About HIV Testing