Medium
Welcome to North Dakota Division of Vocational Rehabilitation. North Dakotans are encouraged to recognize that a disability is one part of who a person is, and at work, it is what people can do that matters, and inclusive workplaces and communities enhance the quality of life of all North Dakotans.
Our primary mission is to assist North Dakotans with disabilities to improve their employment opportunities and to assist North Dakota businesses in finding solutions to their disability-related issues.
Through this "dual client" approach, we assist individuals with injuries, illness, or impairments to achieve competitive employment and increased independence. We also assist business owners and employers through full service business consultation on a variety of business and disability-related areas. We invite you to learn more about the services we provide to individuals and businesses.
Effective February 4, 2014, the North Dakota Division of Vocational Rehabilitation is serving all individuals without a wait list. 
Medium
A Partner in: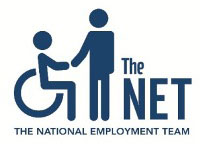 North Dakota Employment Opportunities